Profiles
Simple single piece profiles designed to be glued down for a quick fix. No visible fixings and multiple profile shapes and sizes.
Frontier SINGLE PART
Parallel Frontier Single Part & Wood Coverplate profiles are the perfect solution to an ever increasing DIY market. Quick, simple and cost effective to put down, the range of one piece profiles incorporates many different shapes and sizes to ensure that all flooring types and thicknesses can be accommodated. Moving along with trends the Single Part range is available in unfinished Oak, lacquered Oak and a huge range of stains and oils to complement all the major flooring manufacturers boards.
Uses & Application
Finishing your flooring with profiles has never been so simple. Pick the profile shape required, stick it down. Parallel Single Part systems, ideal for stress free DIY.

Profiles ~ Examples of Usage In situ
What can profiles do for your floor?
Enhance the whole look and feel of your floor. Profiles are often the last thought on the mind of the person who sells or lays the floor but without due care and consideration for what is needed, the floor can look poorly finished. Even without the importance of the aesthetic aspect, profiles play an important roll in the fitting and longevity of the floor, in-particular, solid and engineered wood floors. Profiles provide cover for necessary expansion gaps both around the perimeter of rooms and across door thresholds. Without the necessary expansion, hardwood flooring will bow, dish or push bricks out of walls.
With the correctly specified profiles, perimeter expansion and door threshold covers vanish to become part of the floor.
Floor Preperation
For a flawless finish, preparation is the key. Luckily with Parallel profiles, preparation is kept to the bare minimum. Simply ensure that the substrate floor is clean and relatively level.
Not quite what you need?
Haven't found quite what you are looking for? No problem, just
give us a call
. Parallel are able to machine bespoke profiles to whatever specification you require.
Fixing
Parallel's unique fixing system makes installation a breeze. Simply fix the base section to the substrate floor with either an adhesive or screws and then tap the top profile into place with a rubber mallet. The profile will self level in the height adjustable base system giving the perfect finish.
Complementary Extras
In addition to profiles to cover gaps between different flooring types or through doorways, Parallel also manufactures skirting, architrave, scotia, quadrant, stairnosing, pipe covers/collars and more from the same high quality hardwoods. This enables continuity throughout the room or building.
Innovation
Leading the way with an uncompromising attitude to product design and customer service, what is run of the mill to us is impossible to others.

Bespoke Profile Shapes & Finishes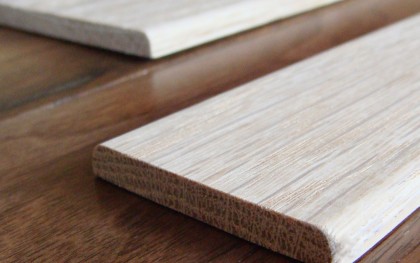 Discrete Profiles
Bespoke Profile Shapes & Finishes
Whatever your project requires, Parallel can deliver. Quickly. Equally adept with items for period homes as we are with contemporary pieces for modern living, we have a firm belief that our products should enhance interior design rather than just being a necessary evil. With an unlimited scope for bespoke mouldings, all shapes, sizes, designs and tastes are comfortably catered for. But where we really excel is in the finer points. There is little point in having the skirting you desire in a colour or finish which stands out like black on white. Simply send us a sample of your flooring and we'll colour match it.

Let us take the stress out of your flooring project.
colour matching
Send us your board and we will provide profiles to match it! Using our comprehensive colour database, there are very few finishes we are unable complement.
staining process
Starting with an unfinished base timber, various stains, waxes, oils and enhancers are hand applied to ensure an even and consistent colour. Once dry, the top coat is applied to give the desired finish, whether that be matt oil or gloss lacquer or anything else in between.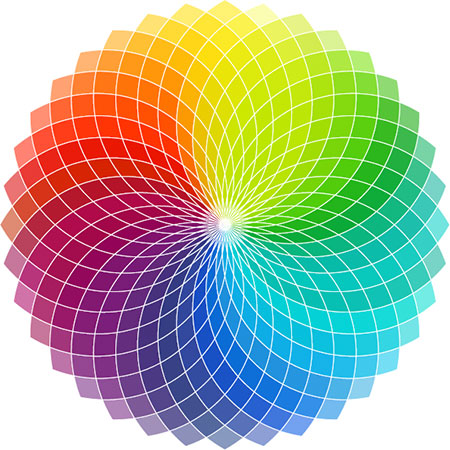 Fitting
Minimal preparation, beautiful finish. Fix & forget, walk away without worry of having to return to replace or repair Parallel products.

Fitting Method
Tools for the job;
Hand Saw
Rubber Mallet
High Grab Adhesive (and/or Screws)
The Frontier Single Part profiles are quick and simple to fit, whether you are a seasoned carpenter or a DIY beginner.  Follow the steps below, ensuring that you start with a clean and clear environment and the correct profile has been selected;
1, Trim down the profile and base to the desired length (if neccessary).  Be sure to double check measurements before cutting!  The top profile may also need notching out in the corners to get a neat fit with the door frame.
2, Apply a high grab gap fill adhesive to the area between the floors
3, Working swiftly so as the glue doesnt skin over, gently press the pre-cut profile down on to the adhesive, ensuring the profile settles in the desired place.  Maintain downwards pressure for a few minutes and then leave to 'set' for 24hrs.  The profile can also be screwed or pinned down for extra security.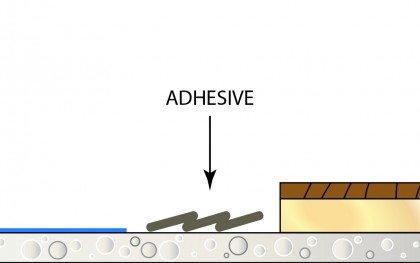 Prepare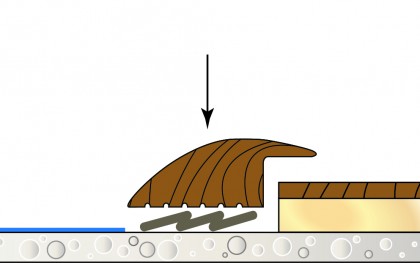 Fix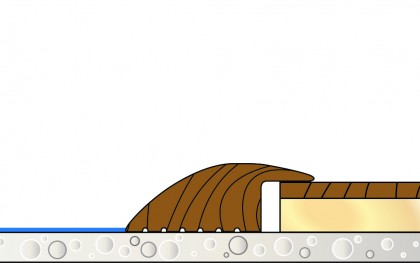 Forget