Profiles
Machined from the higest grade timber and designed specifically for the job, Frontier Sports Skirting is the only solution worth considering.
Wood SPORTS SKIRTING
Frontier Sports Floor profiles are an all encompassing range of solid hardwood skirtings specifically designed and manufactured for the leisure contract market.  A variety of shapes and sizes provide an unrivalled choice for the contractor to ensure that all skirtings are specified correctly for the job in hand.  Options are available to cover perimeter expansion from as little as 10mm in side rooms or drama halls all the way up to 60mm in a full size sporting arena.
In addition to numerous profile shapes, Parallel are able to offer a large number of hardwood finishes and stains whilst maintaining large stocks of Beech.
| | | | | | | | |
| --- | --- | --- | --- | --- | --- | --- | --- |
| SFSC 40 SCOTIA | Solid Hardwood | Beech, Fumed Beech, Maple & Oak | 2500mm | Tubed | Any | Any | Heavy |
| SFREVS 50 REVERSIBLE | Solid Hardwood | Beech, Fumed Beech, Maple & Oak | 2500mm | Tubed | Any | Any | Heavy |
| SFSK 65 DRAMA | Solid Hardwood | Beech, Fumed Beech, Maple & Oak | 2500mm | Tubed | Any | Any | Heavy |
| SFSK 65 CHAMFERED | Solid Hardwood | Beech, Fumed Beech, Maple & Oak | 2500mm | Tubed | Any | Any | Heavy |
| SFVSK 65 VENTILATED | Solid Hardwood | Beech, Fumed Beech, Maple & Oak | 2500mm | Tubed | Any | Any | Heavy |
| SFSK 80 'L' SHAPED | Solid Hardwood | Beech, Fumed Beech, Maple & Oak | 2500mm | Tubed | Any | Any | Heavy |
| SFHSK 95 HOCKEY | Solid Hardwood | Beech, Fumed Beech, Maple & Oak | 2500mm | Tubed | Any | Any | Heavy |
Uses & Application
With a number of different profile shapes and sizes, the Frontier Sports range provides a solution for all areas and disciplines.

Profiles ~ Examples of Usage In situ
What can profiles do for your floor?
Enhance the whole look and feel of your floor. Profiles are often the last thought on the mind of the person who sells or lays the floor but without due care and consideration for what is needed, the floor can look poorly finished. Even without the importance of the aesthetic aspect, profiles play an important roll in the fitting and longevity of the floor, in-particular, solid and engineered wood floors. Profiles provide cover for necessary expansion gaps both around the perimeter of rooms and across door thresholds. Without the necessary expansion, hardwood flooring will bow, dish or push bricks out of walls.
With the correctly specified profiles, perimeter expansion and door threshold covers vanish to become part of the floor.
Floor Preperation
For a flawless finish, preparation is the key. Luckily with Parallel profiles, preparation is kept to the bare minimum. Simply ensure that the substrate floor is clean and relatively level.
Not quite what you need?
Haven't found quite what you are looking for? No problem, just
give us a call
. Parallel are able to machine bespoke profiles to whatever specification you require.
Fixing
Parallel's unique fixing system makes installation a breeze. Simply fix the base section to the substrate floor with either an adhesive or screws and then tap the top profile into place with a rubber mallet. The profile will self level in the height adjustable base system giving the perfect finish.
Complementary Extras
In addition to profiles to cover gaps between different flooring types or through doorways, Parallel also manufactures skirting, architrave, scotia, quadrant, stairnosing, pipe covers/collars and more from the same high quality hardwoods. This enables continuity throughout the room or building.
Innovation
Leading the way with an uncompromising attitude to product design and customer service, what is run of the mill to us is impossible to others.

Hockey Skirting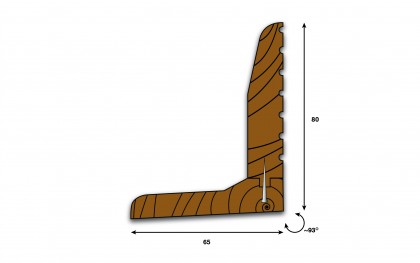 Angled Profile
hockey skirting
One of the concerns that can arise with certain skirting profiles is the effect that is seen when a ball strikes it. Hockey is one of the sports that requires special attention when considering which skirting is to be used on the sports hall. Due to the nature of the sport, a hard ball generally travels at high speed along the ground. Enevitably the ball will strike the room wall and rebound into play. With the specific hockey skirting from Parallel, the return trajectory of the ball is carefully controlled. The curved face produces a downward angle for all balls which strike its face. This helps reduce potentially dangerous rebounds that can often be seen with other none specific skirting profiles. Whilst it is impossible for all dangerous rebounds to be completely negated, Frontier Hockey Skirting provides the best option for multi-purpose sporting arenas.
fumed beech
To meet the fashion for darker toned floors, particularly those achieved through fuming, we've developed a stain to match the colour without the complicated and time consuming process of fuming Beech.
staining process
Starting with an unfinished base timber, various stains, waxes, oils and enhancers are hand applied to ensure an even and consistant colour. Once dry, the top coat is applied to give the desired finish, whether that be matt oil or gloss lacquer or anything else in between.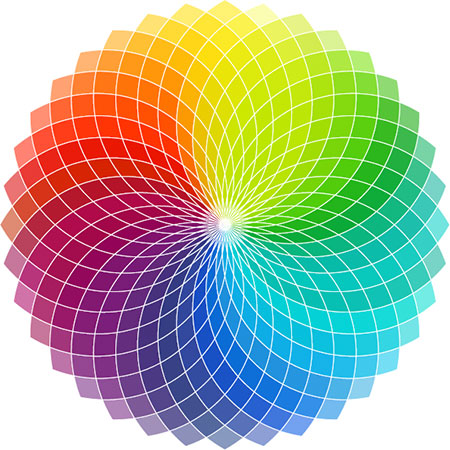 Fitting
Minimal preparation, beautiful finish. Fix & forget, walk away without worry of having to return to replace or repair Parallel products.

Fitting Method
Tools for the job;
Saw
Screwdriver
High-Grab Adhesive
Nail Gun
The Frontier Sports Floor range require expert fitting in the main.  Mitred joints and precision cutting tools are required to provide the desired finish to withstand the rigours of a sports hall environment.
1, Mitre the ends of the profile for straight joins and corners to increase structural strength.  Position as required to cover the perimeter expansion of the room.
2, Pin, screw and/or glue the profile to the wall (fixing method differs slightly depending upon the profile selected).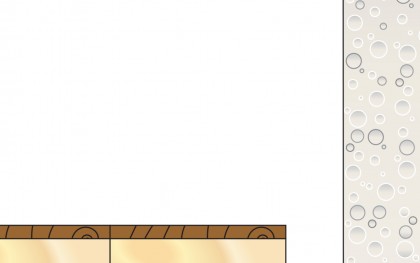 Prepare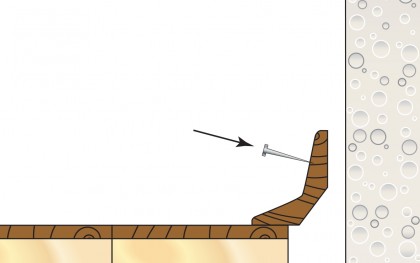 Fix
Forget